When we arrived in Seville, we realised that we hadn't taken a guided tour since Gdansk and that, possibly because of this, we hadn't learned as much as we could have in places like Bilbao and Porto. So we signed up for another one of those free tours where you show your appreciation afterwards by the amount of "tip" you give.
We started at the plaza de Espagna: a square formed by a semicircular imposing building erected there in 1928 on the occasion of a kind of World's Fair, but of the Spanish world, i.e. with mostly South American countries (and Portugal with its former colonies or not). Besides the Spanish building, a few pavilions have been retained and otherwise a rather pleasant park-like setting. As far as we can judge, it gave the city quite a boost at the time.
We walked past a former tobacco industry, a huge fancy hotel and an old tower. The guide explained a few things about it, but forgot to mention the historical timeline and relevant events. So when we were granted a coffee break and did not find the guide again after our coffee, we were not very sad about it.
In good fortune, we walked a bit through the old town and came across a demonstration. Turned out to be for the preservation of the unity of Spain and thus against all those separatist tendencies that are popping up all over the country.
A little further on, we saw a large wooden structure over the road and a square. The Setas de Sevilla was built between 2005 and 2011 with the aim of boosting the neighbourhood in question. The website we consulted mostly reported budget- and time overshoot, but as with that "world" exhibition, which was also a financial fiasco, we felt the goal had been achieved. We found the entrance fee to the cathedral too high and we were also a bit done with visiting churches, so we skipped that.
Both because of a comment by the guide and because Tessel read the book "the barefoot queen" we had the impression that the Flamingo is really something of this region. We decided to visit the flamingo museum. There we gained a huge understanding and appreciation of this dance form. We met an American who was totally enthusiastic about it and he tipped us off that there is a performance every evening on the plaza d'Espagna.
After the museum, we walked through the former Jewish quarter to the park near the Alcazar, where we enjoyed reading in the shade. By five we walked to the plaza d'Espagna where we saw a very nice performance by a flamingo group.
On Monday we took the train to Córdoba, a much smaller town and therefore quieter and more manageable.
The Alcazar there turned out to be closed (closed on Mondays) and to give our visit a chance not to end with a disappointment we booked a (prepaid) guided tour. Now we were immediately given a brief history of the city and so we learned that after the Romans came the Visigoths (great migration of people) and then the Moors. She didn't tell us that those Moors had come at the request of some Visigoths, but that didn't bother us. She also told us that the Alcazar is something of a fake; it a recent reconstruction, as it had served mainly as a prison for the last few hundred years and nothing was left of its original splendour. Still, a consolation for us 😉 .
Again, we walked through the Jewish quarter and she told us that there had actually been no Jewish community since about 1492. It was really a separate neighbourhood until then, deliberately set up as a kind of maze to make outsiders feel exactly that. It also made it easier for insiders to escape persecution. After the completion of the reconquista in 1492, however, tolerance towards non-Catholics was over (and came the Inquisition). People had to convert or leave, although many were also murdered. Our guide claimed that there may also have been financial reasons; the king allegedly borrowed so much (bankers were mostly Jews at the time) that he could never repay the debts…. Then again, Muslims were also treated this way, so whether this is true?
Also the (13th-century) synagogue was closed on Monday, unfortunately, but the famous mosque-cathedral (mezquita-katedral) was fortunately open. It was indeed an impressive sight. The mosque itself with its red and white arched vaults, but the fact that a complete cathedral was "fused" in the middle made it even more special. Especially when we heard that the clerics had planned to demolish the mosque several times, but that the population was so fond of its unique building, which by now did have a Christian function, that they managed to prevent it time and again, with the current building as a result.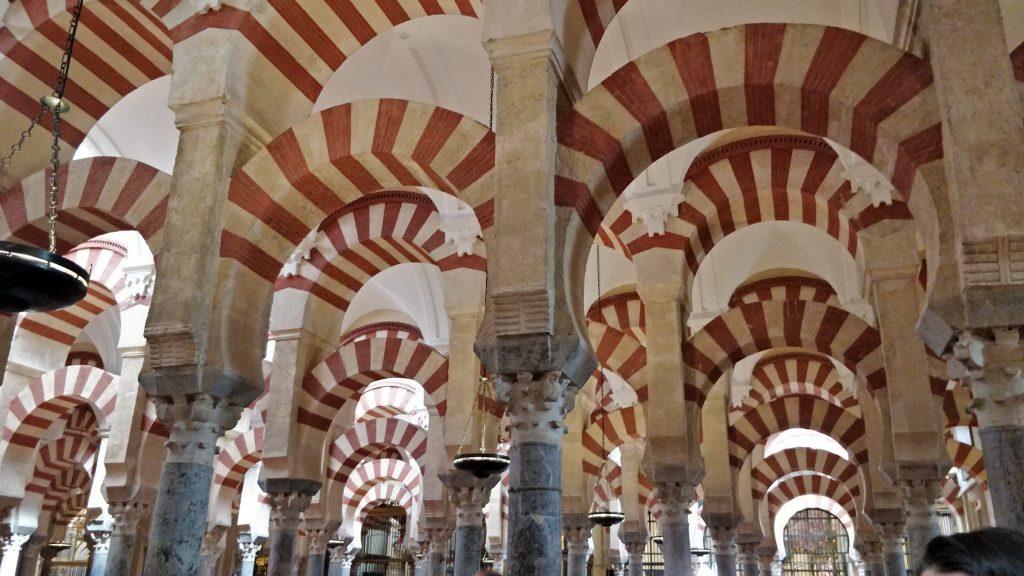 If you want to revisit how we cycled all the way look at the previous blog.
Sign in to our blog:
Sign in