Those who arrive in Harwich by car get the impression that it is the ugliest corner of England. However, we cycled through the town and found a different version altogether. We had breakfast in a nice "bus shelter" on the seafront overlooking the rising sun (over the sea, what took some getting used to).
The two days after our arrival, we cycled through the English countryside as we had pictured it. We followed the national cycle network route 1 which is very low on traffic. Hedges, cottages, here and there a beautiful country house and picturesque villages with those typical English churches.
The second day, after about 40 km, we noticed that we found the continuous slight up and down cycling quite tiring. Then it is great to rest in the garden of a pub (with a glass of soda). That really is a plus for England.
Those first two days convinced us that we would like to cycle in England more often. On the third day, we cycled along the river Lee into London. In itself a lovely route; we were mostly on a towpath.
Fortunately, we had few oncoming traffic, as it was narrow. Less pleasant were the many fences, gates and other obstacles the English put up to slow down traffic. Countless times we had to dismount to carefully get through them, often Tessel had to lift the back of our bike because we couldn't make the turn… Fortunately, it was only 35km that day and we were warmly welcomed by Bibi and Huw and their children, where we spent a wonderfully relaxing afternoon and evening.
Huw and Eve cycled a bit with us the next day to point out the place where we could buy delicious sourdough bread. Two hours later, we had just covered 15km through London. Again, creeping – creeping through gates, overlocked gates and back alleys. We had just walked under the Thames: into a pedestrian tunnel (built 18…?) which fortunately had a very large lift (we noticed again during the week in NL how rare that is).
After another kilometre of crawling along the Thames, Tessel spotted a mooring for what was called Uber boats; a water bus. According to the route map, it would go all the way to Putney, while we were now in Greenwich. It seemed like the ideal solution, only we had no idea whether they would (be able to) take the tandem. Nor, for that matter, when the boat would arrive. That took quite a long time, but other waiters assured us it would come. Occasionally, one would pass by without stopping: they are hefty catamarans that can go pretty fast, but don't really look like they can carry bikes. Fortunately, the Uber crew was extremely benevolent and, with combined efforts, the tandem was put on its side behind a bench on the bonnet 🥵.
We thoroughly enjoyed the view of the city from the water!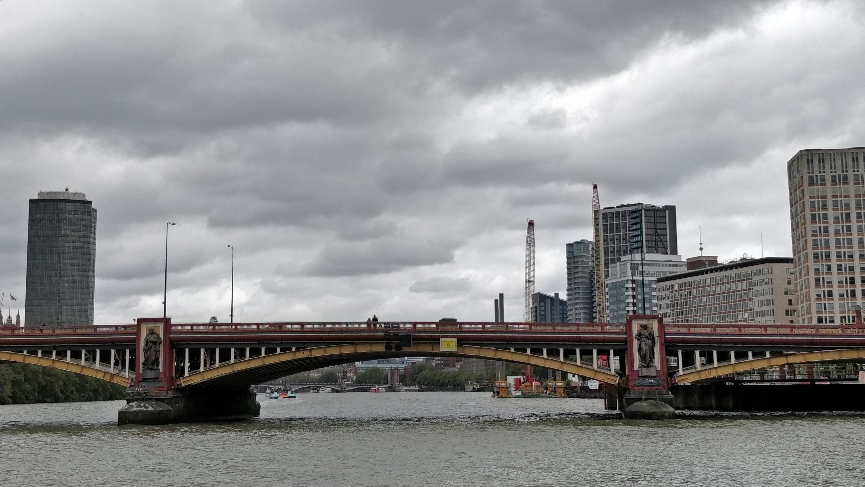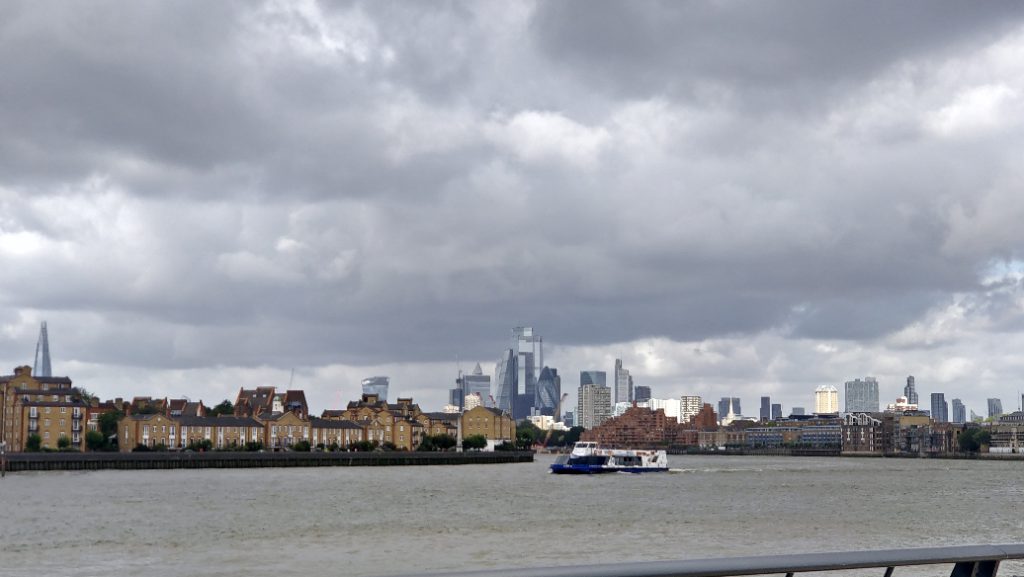 About 2 hours after our decision to take the boat, we found ourselves on the quay in Putney. It was one o'clock. After a good lunch, we cycled on. The route went through a park where the deer were so tame, they just walked among the pedestrians; a strange sensation.
We did some shopping in Kingston and luckily caught a foot ferry close to the campsite half an hour before it was due to stop. This boat presented a slightly bigger challenge than the Uber boat, as there was no gangplank and it was not level. Eventually, we got all the bags off the bike and a disembarking passenger helped us hoist the snail and bags on board. Along the way, we had stopped at several castles (royal ….) and also helped a woman who had fallen with her bike on the gravel path along the river… All in all, it had been another long and exciting day…
The route to Sulhamstead would continue along the Thames and later a river through Reading and be 73km long. Somehow we were done with cycling along a river and decided to take a more direct route. Pocketearth and mapy.cz came up with pretty much the same route and that's what we went for. What a mistake! Indeed there was usually a cycle path along the road, but the roads were so busy! Maybe England is the only country we visited where the roads are more crowded on Sundays than during the week? And again, a huge number of fences and other slowing obstacles and having to cross at random. And in England they find it logical to make sure you can't cross in one go, but hit a red light on the refuge and have to wait again for green. Fortunately, we had coffee in a nice pub in the morning (which was willing to open 20 minutes earlier for us) and tea in the afternoon, to regain ourselves before we arrived at Sheila's, where of course we were warmly welcomed.
Oscar meticulously mapped out the route to Portsmouth himself along the smallest possible roads. Now we hope that this will help bring back the countrylane feeling of the first two days 🤞
Sign in to our blog:
Sign in