We leave Geilo (pronounce Yeillow) with bright sunshine. But we know we are going to clim considerably and this afternoon the weather could turn; so we have all warm and rain gear close at hand.
Already in Ustaoset it gets chilly. In the distance we can see patches of snow. We have tea at a café that officially doesn't open until noon. We put on the long trousers and jumpers. And the rain suits, or not? Or….. Not.
At Hagestøl it starts to rain seriously and we treat ourselves to a delicious pizza for lunch.
In front of the cafe, a Flemish girl on the floor next to her bike is eating a stroopwafel with nutella. We have a chat and recommend taking a look inside anyway. And then we turn onto Rallarweg.
Wow, this is really something else. Within a few hundred metres, we feel as if we have entered nature as it was meant to be. Apart from the birds, we hear only our own tyres. We gain altitude. First, the trees disappear. The last remaining trees are not pines (as we expected) but birches. When asked, a local man in Hagestøl told us that this year's winter was long, with a thick blanket of snow in May. The weather is getting more extreme and the trees are getting bigger; also the treeline seems to be moving up. So for local acquaintances, climate change is quite noticeable. We especially notice that the landscape is getting rugged; like high mountains in the Alps. We are slightly above 1000 metres, we will go above 1300 metres, but that requires quite a bit of cycling on the gravel road, which by the way is quite passable.
Gradually, we need to look up less and less to see snow. We climb steadily. The temperature drops. Even when it stops raining, we keep the rainwear and gloves on for that reason.
After a while, we encounter no more oncoming traffic and become more and more impressed by the overwhelming emptiness and, thanks to the weather, the light! Almost Rembrandt-like, the light comes as if from nowhere between the clouds to light up a different parts of the scenery.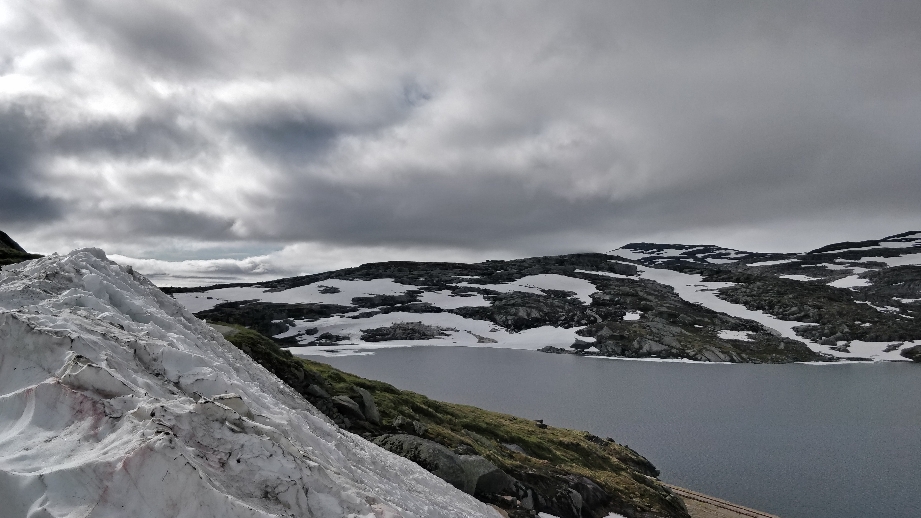 We know that after 25km there is a kind of settlement with a mountain hut and a hotel. The Flemish and her friend have reservations, but we still think we can get a little further and then pitch our tent in that beautiful nature.
We see a sign that in 15km there is a café. Seemed like a good place for a stop with a hot cup of tea. It wasn't hard to find, 2 cottages and a barn in an otherwise deserted area. Only the entrance was at the back for which you also had to go through a gate. We asked the guys we met inside if it was indeed a café which was confirmed. We settle down in a simple historic wooden kitchen interior and take off our wet sweaty rain gear. We drink tea and while they make us a waffle they tell us that they have this job for a week and that today is very boring because so few customers come in with this weather. Less than 10 minutes later, the kitchen is full of people from different parties 😁. What a packed tandem in front of the door won't do for turnover!
In good spirits, we cycle on again. The wind picks up and it rains again. We still climb in waves with occasional steep peaks, so we don't get cold. We do start to doubt the wisdom of camping in these conditions. Once we arrive in Fins we quickly agree that we will see if there is still room for us in the mountain hut. There is. We get a 4-bed room, so there's a chance of 2 more joining us, but that doesn't happen. We both take the bottom bed and reverse the sleeping direction so that our heads are close together 😍.
Despite what we consider the high price, the whole place is pretty spartan. Showering in an open group room further down the corridor. In the room, not even a fountain to brush your teeth. Makes for efficient cleaning, of course. And eating the same thing together at long tables. We strike up a nice conversation with a couple of Norwegians, one of whom is doing a hike from east to west across the widest stretch of Norway. Turns out to be almost identical to our route. They explain that we have been served the traditional Christmas meal of western Norway: smoked lamb with potatoes, carrots and turnips. There are also some kind of knödels and sausage. Although perhaps not intended, we take some of everything on our plates 😉.
We of course talk about our trip and so the 100km "diversion" that the national cycle route we are following makes comes up. The guys are from the region and recommend a more southerly route along the Hardanger fjord. Sounds good to us.
To get to Voss, after 37km we have to take a train through a tunnel (no alternative possible) and then another 45km mainly downhill, but according to the route app all in all still 1000 altitude metres. And after the 13:13 train, the next one goes at 16:20. The latter is not an option, so we get up extra early to get on at 8am. We are delightfully alone and although it is cold we do not feel it, partly because it is dry. It is even more beautiful here if possible! We occasionally cycle between snow slabs!
After the highest point, the landscape seems to become friendlier, greener too. We also see evidence of camping. Meanwhile, the water flows in the other direction (of course) and we again see insanely cool waterfalls and rapids. Once, we drive right past them and so into the mist that is thrown up.
As we get close to the train station it gets more touristy: more day trippers and even a zip line down into the valley to Flåm. At the station, you have to know, it goes down enormously steeply.
Unfortunately, our path arrives a bit lower and we have to go up enormously steeply. That eats up the last bit of energy left for the day, so we decide to take the train up to Voss. The 11:52 one has just left, so it becomes the 13:13 one. A little further on the platform we see the Flemish couple waving back in a friendly way. In Voss the weather is actually nice, with sunshine that we enjoy fully and stretched out. About three hours later, the Flemish couple settle down next to us on the hikers' field. They tell us that the descent to Voss was doable and also very beautiful. Nevertheless, we are very satisfied with our choice and the 3 hours of extra rest.
Abonneer je hier op onze blog:
Abonneren