We spent our (pre)last evening in Sweden in a ski lodge. A full day of rain was predicted for which we preferred to take shelter. Just after we arrived, hours before the predicted rain, a huge downpour erupted. What a good choice! Fortunately, it did dry for an hour this morning and we were able to go for a walk. Even shrouded in dark clouds, the Järpen (the ski-mountain near Sälen) is beautiful. Blooming lupines everywhere.
Too bad about those ski lifts and snow machines, but fortunately, except for the top, the slope is not to barely damaged. What is nice to see are the huts at the bottom of the slopes. Tiny with 2-3 picnic benches, a barbecue and just some chopped wood inside. It looks like an ideal shelter.
Musing on what we have seen of Sweden, we climed uphill. At first, a very varied rolling landscape with agriculture, forests and all those beautiful red wooden houses.
Further west, we saw more and more production forests: first mixed birch and pine, later mainly pine forests, with only some birch on the edges – apparently they do something for each other – and always those big chunks of stone in between.
In recent days, the forests have been interspersed with lakes and lazily meandering rivers. The day before yesterday, there was suddenly a moose on the roadside. She (? because without antlers) was so startled by us that she disappeared into the woods before we could come alongside, but we had seen one anyway. Another 2 days earlier we had seen a warning sign for moose, but then the road was too busy we thought. We never saw those otters, hedgehogs and snowmobiles we were warned about either, so what were the chances now?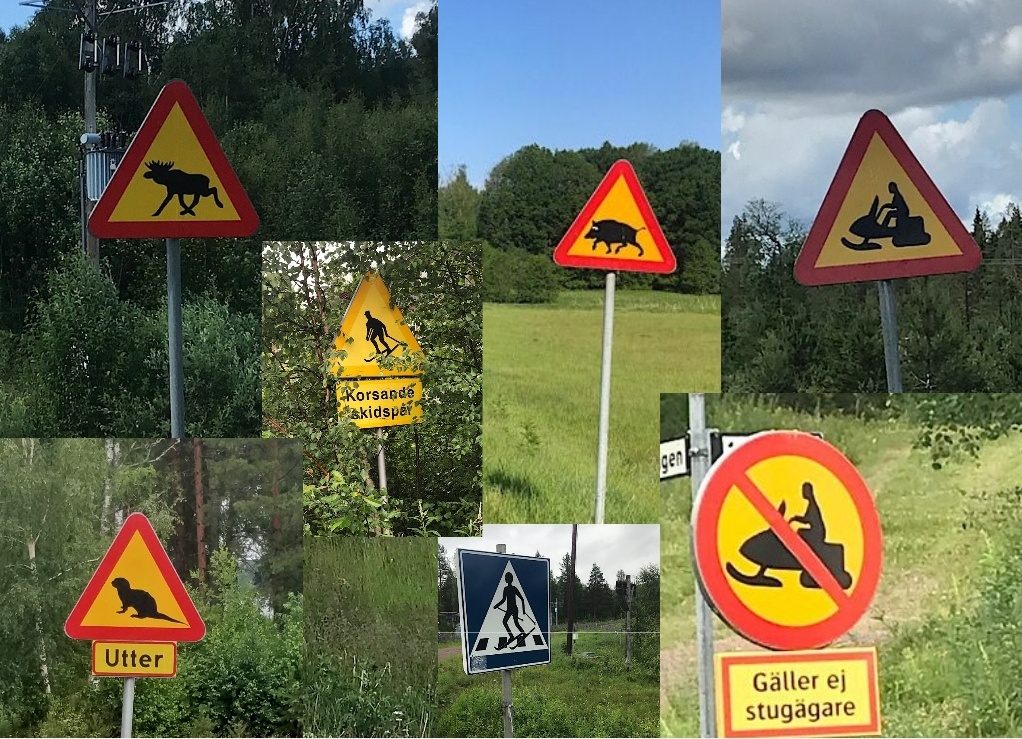 But the most striking thing about Sweden is how relaxed it is. Cars always stop for us and wait patiently even if it takes a while. Not because their are eyeballing our fully loaded tandem, but simply because that's what you do: give each other space. Even when we are rummaging in our bags somewhere under a shelter and blocking the road for the post office carts. "No problem, take your time." Fathers with their children on the terrace play endlessly. The owner (former Olympic snowboarder) is happy to host people who linger long on one cup of tea. At one of the many Loppis (flea market) where we stop for a cup of tea, all sorts of things are pushed aside under a canopy and a tray of mustard, ketchup, onions and sandwiches is brought. A little later comes a kettle of boiling water and 2 cups and then the reheated sausage arrives. Like the forementioned snowboarder, this lady sets up 6 sheds every year around Midsummer only to clear everything away 9 weeks later. The enormous effort for such a short period, it doesn't seem to bother them.
The best thing of Sweden though is the way people great always and everywhere: "Hej, hej" with a radiant smile as we only know it from when we unexpectedly visit our mothers. We'll try to keep that in our hearts: Hej, hej!
Sign in to our blog:
Sign in