I wanted to write about the two cities we visited last week. About Belgrade and Szeged.
About how we visited Belgrade by bus from Avala. It was May 1 – still a serious matter in Serbia – and Sunday. Apart from two demonstrations, we encountered a strange, disjointed city with diverse architectural styles – from art nouveau to Soviet blocks – and women with botoxed lips. A remarkable amount of ( sometimes crossed-out) graffiti for Ratko Mladic and a large modern Orthodox church with lots of signsthe Russian funding. All in all, not a very attractive town.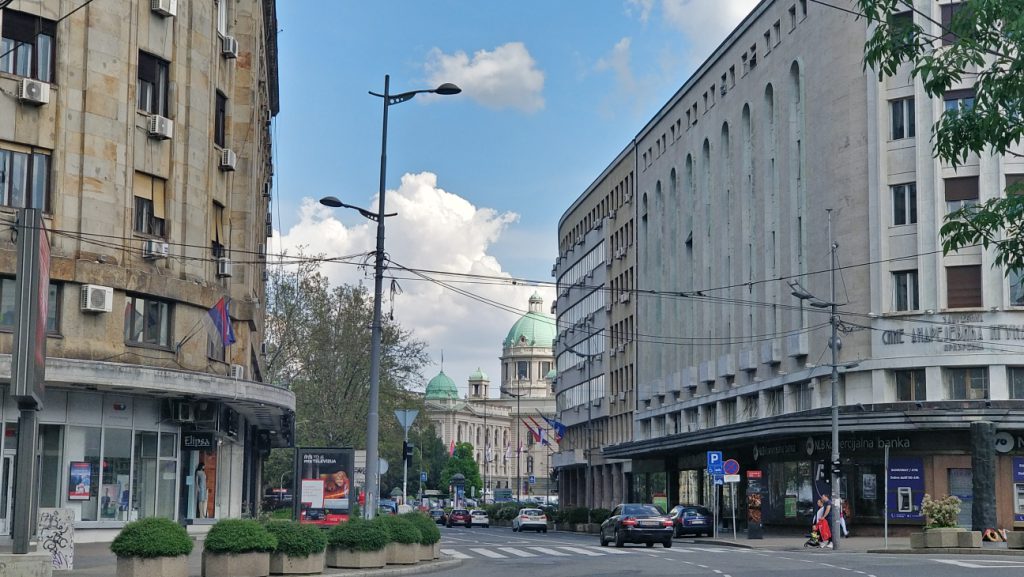 And Szeged, Hungary's 2nd city, with a beautiful modern Catholic church and
lots of Hungarian art nouveau, beautiful squares and parks, students and a pleasantly relaxed atmosphere. The city's waterfront campsite was combined with remnant thermal baths (next to large new complex) and across the Tisza a hip entertainment centre with floating disco.

But then came the news that Tessel's former colleague Raisa Maduro had died. That put everything in a different light. Raisa, who always knew how to distinguish (in)justice and who was fully committed to doing the right thing. How can life go on without her? She was far too young and for me her death came completely unexpected. I wanted nothing more to do with urban pleasures, sought peace and quiet to dwell on the value of life and memories.
The campsite we had thought of, despite the roadside notice, turned out not to exist 😬. With some difficulty, we managed to fill up our water supplies and carried on, until, only a few kilometres down the road, we came across a 'clamping' sign. Unplanned, here in Csongrad, we found the sweetest little campsite with log cabins and the nicest owners you can imagine.
We were pampered on all sides, home-brewed schnapps, wine from their own orchard, delicious roasted green asparagus with their own 'pecorino' cheese and apple pie for dessert. And in the morning for breakfast again: homemade cheese and an apple from their own tree. Incredible how that helped make room for grief and beautiful memories.

As Raisa's funeral was available online, we intended to make a short tou, but…. you can guess: the 'kemping' (Hungarian spelling) we were aiming for turned out not to be for tents or caravans as the checkout lady made clear with her hands and feet. She and her assistant mastered no more English than: " no camping". "Do you have water for us then? or can we rent a cottage?" With that, we were accompanied back to the road. We thought we were being led to the site (new cottages?) down the road, but after 100m we stopped at a pipe with running water and a pump. The pipe was no good, 'Feel: warm water' – gesturing to the thermal bath – and yes the pump was drinkable (gesturing to her mouth). And off she went. Just when we got our hopes up for a cottage🥺.
Never mind: water and we will be off. Out of the pump came yellowish water with little black bits in it. Let's not drink that. 'in that case we can also take hot water for a nice warm shower'. By then it was 13h, 2h left until the funeral. That will be fine. We cycled up a farmroad towards a small lake. At the end of the track we found a beautiful campingspot; completely out of sight, nice and green, flat and sunny. What more could we ask for? We decided to take a shower with our hot water first. That's party time! It was ultra-soft water, the muscles relaxed instantly, until out of nowhere, a car drove up oubof the grass. 'Where are the towels?' The car stopped. We were expecting a reprimand. There came a story in Hungarian. Tessel asked:" eh. English?" "Okay" and the man walked back to his car. ' That wasn't too bad' we thought. Until he opened his rear door and pulled out a huge gun 😨. 'Wow, it's not that bad, is it?' However, he kept it 'en profile' and gestured busily that from where he was standing there was shooting going on and, with a swing of his arm, for us to get away. We never dressed so quickly and packed up our bike.
On our way back through the field, we were met by a boy with a hefty shepherd dog (no Oscar, he doesn't need to be walked when there's so much room for the dog to run in his own yard), but we were allowed past. Somewhat perplexed, we arrived at the through road around 2pm. Still an hour to go, but we had to recover from the shock.
So we quickly made ourselves a sandwich. We agreed to look for a new spot and, if necessary, take a break on the roadside for the funeral. Who could describe our luck that within 5 km we came across another campingsign. But, of course, that too was closed. 300m further down the road we did find a thermal hotel. At 5 to 3 I was logged in on the Wifi.

Fortunately, funerals on Curaçao have a long run-up time. For the first 1.5 hours there is opportunity for everyone to spend time with the deceased. Raisa looked beautiful in her coffin; fortunately not emaciated. For me too, a chance to reconnect with my feelings and cry for her loss and her family's grief.

Rest in peace, dear Raisa.
Sign in to our blog:
Sign in