On Thursday we cycled to Sarandë and then on to Lukovë to get a proper taste of Albania. It is clear that if it goes up 8 to 10% is the norm; fortunately we have already trained a bit 😉 in Greece. Other things that stand out: the tranquility in the areas outside the cities; the great contrasts between modern (new) cars on the one hand and farmers riding a donkey on the other. Just like in Hungary in the early 2000s, young carowners behave very unpleasantly: speeding overtaking you and sometimes making weird moves too…
We had seen on the map a campsite by the sea with an attractive name / description. At the exit we asked in a café to be sure if there really was a campsite (125 meters down and no sign at the road to announce it). Yes, there really is; "follow that winding road". We almost missed the exit, a dirt road, but fortunately Oscar corrected that. A little further on along the road we asked again if there was a campsite 'yes', so on our way again. Right and left stray cows that run away scared by us. The road was getting worse and worse; Also washed away by rain and therefore we walked several stretches (no mud fortunately this time).
We began to realize more and more that tomorrow we will have a hard time getting back on the main road. Far from downstairs were a few buildings with an "apartment" appearance. Fortunately, we found some people in the yard. Yes there is a campsite and yes, you can also sleep here ("hotel, yes" and that turned out to be all the English they knew 😁) Still an apartment. Spartan furnished, no pans or cutlery, low water pressure and the hot water did not work, so we were invited to use the owners shower (3 floors down) in a much more shabby apartment than ours…
But… lovely people with whom we communicate with hands and feet. For example, our question if she could provide food so that we could stay a 2nd night was answered in the negative, but a kind of breakfast was brought. Apparently she had meant "at no extra cost"?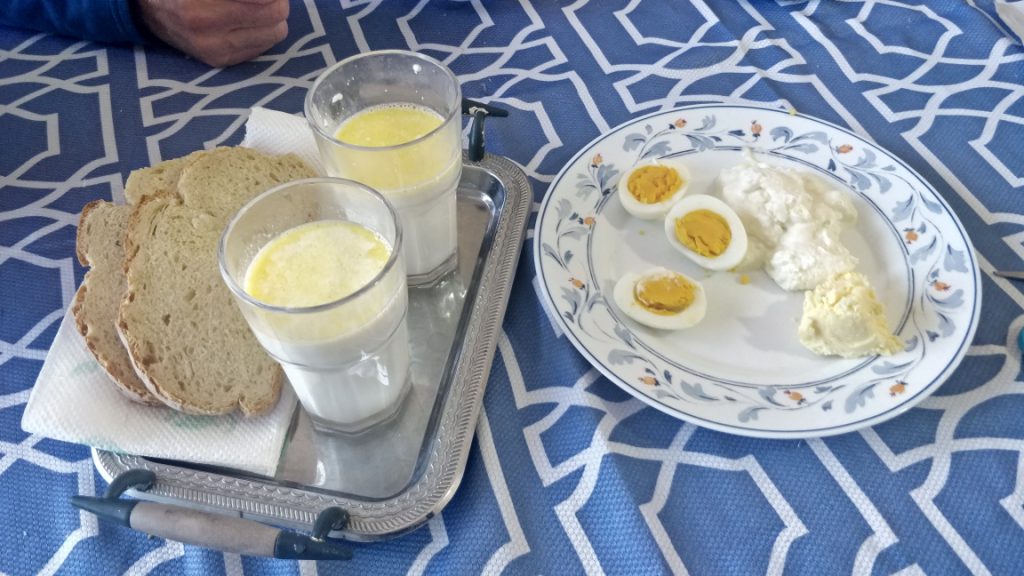 We seemed to be the first visitors, which did not surprise us given the road. Who had thought of developing apartments here? But to be honest: the view was phenomenal!
Cycling up turned out to be a lot easier than going down. Of course, with the head down takes some dare, but it is still interesting that descending is harder than climbing. Something about the unknown versus view/hope we think now. In any case, we were back on the main road much faster than expected.
That made it possible to cycle the full 35km (yes it doesn't sound much) to Hirmane where many campsites shiwed on the map. There we found the sympathetic campsite Moskato where hard work is being done both out in the road and on site – it will be beautiful here! Here we are going to spend the weekend.🥵
Abonneer je hier op onze blog:
Subscribe