Yesterday a month ago we left Eindhoven. We have done a month summer vacation before, so you could say that we are now really stepping into the unknown. I'm curious what that will bring.
Coincidentally, yesterday we really started a northbound stage for the first time. Until now, we did a kind of aclimatization on the Peleponese and Kefalonia to give spring a chance to warm up. Wat and beyond the weather was 😀 actually warm yesterday and today.
Cycling north for the first time and on a Eurovelo route in a way feels like a restart. It gave us a new kind of energy. Nice because after the crossing from Sami to Astakos (and having a nice lunch on a bench) we had to start the first stage at 1 pm. Not very far, 35km but, but again with a good 15% in it.
We ended up in a field in the village of Mitikas next to a Dutch camper. Great place, but little privacy which in turn led to all kinds of inventive solutions for the morning rhythm😉. Meanwhile, we noticed that the church bell on a Saturday morning and also more often and longer than usual on Sunday (I will write something about the religious rites we see here soon). Unencumbered by any knowledge, we continued packing and cycled to the supermarket for our weekend shopping. When we left our campsite we saw 2 young children in traditional costume. In the village a large number of teenagers in black pants and white shirts. And somewhere, someone was playing a drum. Yes, I know we could have drawn conclusions. But we only saw when we came out of the store that there was a whole parade ready to set loose. A boy in the last row reached out: 'hi Sir, have a nice day' to which I asked what the occasion was. 'the 25th of March'. I must have looked very questioning, because his mate added: 'the start of the Greek revolution'. Ah so.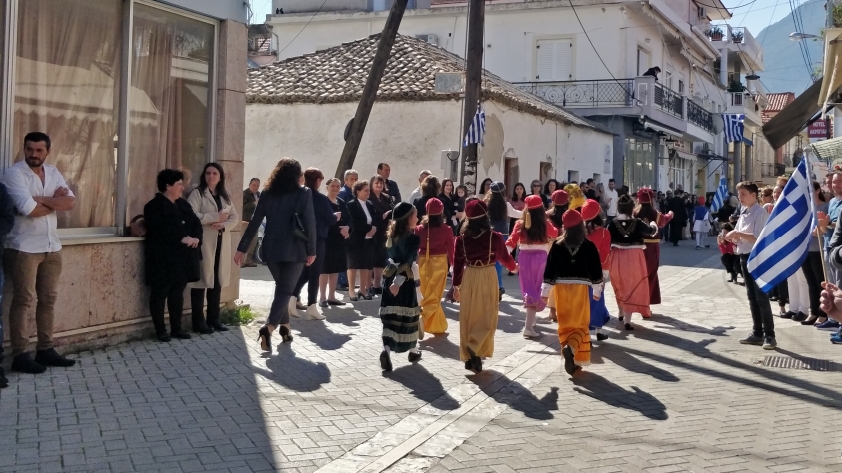 By the way, did you already see our latest feature? We have found a way to capture the route travelled so far in a map. Our route today went through a tunnel that we had heard is not accessible to cyclists. Apparently there are solutions for this using a pickup truck that takes cyclists from one side to the other, but where can you find it? We went to the village where we had to choose the tunnel or a detour of 140km (also good of course, were it not for the fact that a lot more rain is predicted there in the coming week than north of that tunnel). In this village was also everything in the March 25 sferen in the sense that everyone on the terrace was eating the traditional meal of fried fish (cod or kalamari) with garlic sauce. We also joined, of course. After half an hour the remains of our predecessors were removed, after another half hour we got a card and a clean tablecloth. After 1.5 hours we still hadn't been able to order a drink and decided to spread a sandwich on a bench on the pier next to a Swiss cyclist. Fortunately, the café owner on the corner knew exactly where we needed to go and how it would work with that pickup (spoiler: not so) so we happily got up around 2.45pm to cycle the last 13km to the tunnel.
The tunnel turned out to be a toll road and you guessed it: we were stopped there. No cyclists allowed and a taxi service from a pick-up? Yes, that was allowed, but we had to arrange it ourselves. We were given a phone number and were allowed to wait behind the barrier in the sun. The taxi service promised a suitable car in 10min. We are happy. We know 10 min as a flexible concept, but after 45 minutes we got a bit impatient and then suddenly a taxi arrived. A Skoda Octavia. The driver looked just as shocked as we were. After stepping out our bike and his car, he decided to fold up the chairs and pulled out a large piece of plastic. The tandem on its side; all the bags on and over and Oscar in a tiny corner next to it to hold everything in place. Of course the hatch couldn't close. At 30km/h we drove the 1600m to the other side where everything was unloaded (we wouldn't have minded to have gone a little further to the next exit so that we didn't have to cross that big road).

In the meantime, we were told where we wanted to go. 'Oh camping panorama? 10 km straight, no left no right.' 'Is it open?' I asked. He took out his phone. All campsites in a radius of 20km were called, but no one answered or if they did, they were closed anyway. The poor taxi driver got all nervous. We assured him that it was always going to be okay and got on our bike.
Around 6pm we arrived in the next town of Mitikas (yes 65 km from Mitikas to Mitikas). We settled down on the first terrace we saw to find a place to stay and then of course also eat😀 super tasty kalamari and lentil-quinoa salad.
All is well that ends well: we rented a private gardenshed in 30s style for 2 nights. In 10 minutes the shower will be warm and then we will crawl in bed.
Abonneer je hier op onze blog:
Subscribe